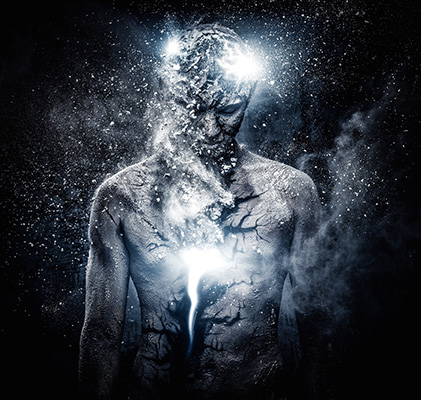 Healing Your DNA: Part 2: The Healing Process
Oct 21, 2018
The power behind self-healing stems from your belief in your own ability to do this according to the energy you are made of and the energy that makes up the Universe. This is an act more of self-love than anything else and it's based on solid science. When energy is out of balance, you must connect with a level of consciousness where the frequencies that live above the physical plane have the power to heal, so it's important to release all negativity.

Here is a simple process through which you can change the instructions given by your DNA. The entire process begins with trust - a belief that this is possible.

In any form of meditation, a sound mantra is used to connect with the higher self. Say this mantra 3 times before you begin your focus preparation, visualization, or breathing exercises to invite the divine energy of the universe into your practice.

Ong (Om) Namo Guru Dev Namo


Ong or Om is the infinite creative energy. Pull in the naval and vibrate the ng or m sound at the root of the nose.
Namo (nah moe) has the same root as namaste, "reverent greetings" or "I bow to you".
Guru (gu-dark, ru-light) is the embodiment of wisdom. The first syllable is short and the second long. The r is rolled off the roof of the mouth.
Dev (dave) means transparent or non-physical.
Together, these words translate as "I call on the Divine Teacher or Universal Wisdom; the Infinite Creative Consciousness".
Day 1:
Close your eyes and imagine your body as a mass of cells, floating, clustering, bouncing, static, or however you choose to envision them in your mind's eye. Give them some type of consistency such as jelly-like, rubbery, firm, or soft. It doesn't matter how you see them as long as you see them clearly. They should be acknowledged as a distinct and apparent reality, not abstract and separate from you, but as an integral part of your whole.
Now focus your attention on a tiny light within the mass of cells and recognize that this is the heat point inside the area which you've decided to change. You will focus your intention and breath for a full 10 minutes.
Breathe slowly and deeply in and out through the nose, all the time keeping your laser focus on the heat spot within the mass of cells. See the warm sphere glow like a crystal ball or an orb from an ancient land. Witness it pulsating like a lava lamp. Use all the power of your imagination to bring it to life.
Day 2:
Begin your complete breathing cycles (
The Vital Energy Centers: Learning to Breathe Primer
) and go back to the location of your intended focus. The cells are clustering around the point of heat and light. They may be pulsating or vibrating. The sphere is glowing.
You will cause the cells to act as protectors and let them surround the sphere entirely in an attempt to neutralize the heat. They will be successful in this attempt because you are guiding them to do so.
Continue this process for 10 minutes. The heat is becoming neutralized but the light is still glowing, though now it is getting cold.
Day 3:
All your attention and breathing is focused on the sphere. If you need to cool it further, continue working until it's completely cold. The fire needs to be put out.
Day 4:
Continue to focus on the location of your healing intention. Once the fire burns down and goes out, the cool ashes produce regeneration. Direct your breath to the cells, recreating them into a faultless condition. The cold luminous sphere is disappearing, its negative energy is being absorbed and eliminated by new healthy cells.
Day 5:
Create your healing mantra. The sphere is gone. It's been transformed into healthy life-giving cells, the same cells you initially saw with their jelly-like structure or pulsating vibration, the same healthy cells that make up every other part of your body. You see yourself as completely healed. Speak and repeat your mantra over and over again for 10 minutes, incorporating the words into your normal breathing.
"My body is completely healthy."
Day 6:
Reinforce the experience of being healthy and healed. Your mind remembers the experience as an actual event. Repeat the mantra you created for yourself over and over again.
In this way, every bit of your being will absorb the idea and experience of being complete and healthy. Remember, whatever we think about most expands. You can go so far as to believe your body was never unhealthy or damaged in any way. Begin from a place of health as though the memory of ill health never existed.
Day 7:
Begin your complete breathing cycles and allow your brain and mind to witness this as a real experience, one which will be memorized like a well-trained muscle.
In the last five minutes of the exercise, imagine and acknowledge the presence of the Supreme Divine Light that guards the world. It hovers over you and falls like a gentle cloud to surround you. It's delicate and fragrant. It keeps you warm and cool at the same time. It is not inhibiting in any way, allowing you to emerge at will.
Articulate your gratitude for this gracious gift. Create a mantra that expresses your unique circumstance or feelings.
You have been through a very powerful experience. Your heightened sensitivity may cause you to become disoriented if you stand too quickly. Open your eyes and allow yourself to slowly reintegrate yourself with the room. You will feel edified, enlightened, and positive. Your energy will be high and balanced
As we continue on life's journey, it's easy to get caught up in a hectic pace and stressful lifestyle. Don't allow your journey to disintegrate again.