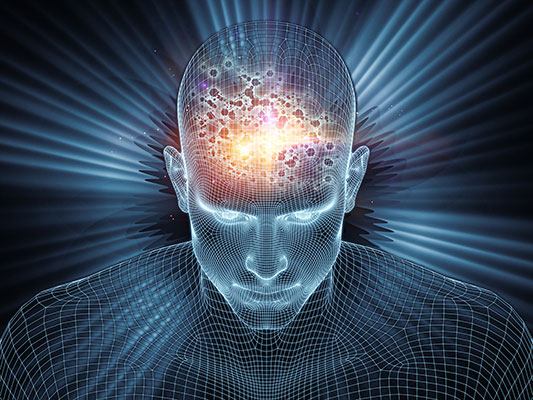 Energy: The New Mind
Dec 21, 2018
Energy is all around us. It's no longer a secret that we (and everything else in the known universe) are made of energy: evolving, spinning, vibrating, dynamic energy. And although all energy is fundamentally the same, not all energy holds the same power.

The field of energy medicine has a 58 year evolution that now overlaps with other alternative systems such as Ayurveda and Traditional Chinese Medicine.

And each year more than half of Americans use some form of alternative therapy with medical doctors, researchers, scientists, and psychologists who are beginning to consider it a viable alternative to conventional medicine.
Energy is thought to be the new mind.
Energy psychology sees the human energy network as an interrelated system that supports the physical body.

New thinking maintains that the mind is actually located in our energy fields: DNA, electrical brain activity, chakras, auras, and thought bodies, with the basic grid being a sturdy, fundamental energy web.

You are a human being: hu means "halo or light"; man means "mind or mental"; being means "now".

Many of us are familiar with Descartes' famous words "I think therefore I am", in which he mistakes 'thinking' for fundamental 'being'. He believed that thought is what constitutes being; that without the ability to think, without thought itself, we would not exist.

But science has proven that we are all made of pure energy. The Law of Thermodynamics states that "energy can neither be created nor destroyed; it can only be transformed or transferred from one form to another."

Thought is a product of that energy.

The human psyche is composed of ten separate but interrelated bodies. With the exception of the physical body, these bodies are made of light energy or qi, and they're increasingly scientifically supported by electromagnetic measurements.

"What we perceive as hard matter is mostly empty space with a pattern of energy running through it." (Einstein).

And pure energy is malleable to human intention and expectation.
The Effects of High Frequency and Low Frequency Energy Vibrations
Cymatics, the study of wave phenomena and vibration through sound, demonstrates the vibratory nature of realty.

Studies of sound and vibration (frequency) put into rhythmic patterns show that we instinctively understand the power of sound.

432 hz, Verdi's A, is a sound that is mathematically tuned and the most consistent to nature. It has a healing effect and is fundamental to nature's ability to repair itself.

528 hz is the miracle tone associated with DNA repair.

On the basis of this vision of the human body, practitioners of energy psychology propose that people should enhance their "energy aptitude," by performing daily exercises to harmonize their energies. Since everything, including you, is a frequency of vibration (has 'vibes'), you can choose what to expose yourself to.
So what's your energy aptitude?
Your energy aptitude can be defined as your ability to work with your own internal energies1 (energy manipulation). To enhance your energy aptitude:
Be aware of how you feel around certain situations, whether you feel negative or positive energy patterns.
Try to discern the energy of other people and objects.
Try to influence, join or transform those energies in a beneficial way.
Use specific tapping techniques to release tensions, emotional trauma, and even physical ailments.
Use psychic sheltering to guard against negative energy in the immediate field around you. (Read more about psychic sheltering and strengthening your energetic force field).
Reduce your exposure to low frequency energy such as worry. The more high frequency energy you can contain within you and surround yourself with, the healthier you will be.
Choose your words.
Choose your thoughts.
Connect with spiritual things and meditate to fill yourself with light.
The principle of energy as a foundation for our existence is deeply embedded in Chinese culture, but the practice of manipulating energy is relevant in modern Western science and psychology. We are all vibrational beings. If the body is attuned to its natural frequency, it will naturally repair or heal itself.
Reference:
Feinstein, David, et al. The Promise of Energy Psychology: Revolutionary Tools for Dramatic Personal Change. New York: Jeremy P. Tarcher / Penguin, 2005